May 2013
May 2013 The Bowes Museum, Barnard Castle, Country Durham, UK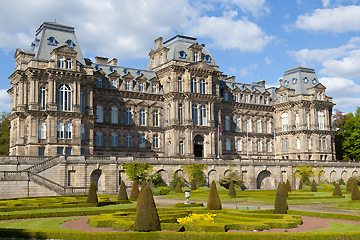 The Bowes Museum is one of the country´s most remarkable buildings, in the town of Barnard Castle – if you've never been there, you should add it to your must-see list. The magnificent French chateau-style building has a strong element of quintessential English country house, thanks to its beautiful gardens and parkland.
The museum was built between 1869 and 1892 by businessman John Bowes and his wife, French actress and artist Joséphine Coffin-Chevalier, who wanted to create a world-class museum for the North East of England. Sadly, neither John nor Josephine lived to see the building completed. Designed specifically as an art gallery by two architects, one French and one English, this impressive museum houses 1500 objects acquired by the Bowes over decades, including one of the largest collections of Spanish paintings in Britain, with works by El Greco and Goya, as well as by paintings by other world-class artists such as Canaletto, Fragonard, Boucher, Gainsborough, Reynolds, and Turner.
I visited the museum specifically to view the Dreamscapes exhibition by photographer and film-maker Tim Walker. The works of this British artist have graced the pages of hugely influential fashion and style magazines such as Vogue and Vanity Fair. Walker uses surreal imagery, often created on a set or outside in the British countryside – beds in trees, flying saucers, melancholic models in floating dresses, rivers running through homes. This exhibition was curated by art collector Greville Worthington, with the work shown in a darkened room, displayed on huge light boxes for maximum impact. I sat in the middle of the room surrounded by his work and saw a dreamscape indeed.
May 2013 The Pool of Life location-hunting with Annie Bennett, Andalucia, Spain
When a series of photographs such as my "The Pool of Life" is created, much time is spent scouting locations before the shoots can take place.
Journalist Annie Bennett, who writes on Spain for the Daily Telegraph and many other prestigious titles, was in town, and we headed off into the hills in search of natural pools and streams. The next series of images from The Pool of Life will involve pregnant women.
May 2013 Railway Stations for Andalucia.com, Andalucia, Spain
Mr Henderson's Railway, which runs from Gibraltar to Ronda, dates from Victorian times, and was built by aristocratic entrepreneur Mr William Henderson, later Lord Faringdon. The line was recently restored, and you can still see many of the stations and other buildings, now over 100 years old. While some are sadly not in good condition, others have been converted into top restaurants. I shot the stations and good sheds of Mr Henderson's Railway for Andalucia.com.
May 2013 "Andalucia" shop, Barnard Castle, County Durham
As many of my Spanish images are shot for Andalucia.com, and the region has been my home for the past 20 years, it's always of interest when I see the name "Andalucia" in other countries. In the town of Barnard Castle, in County Durham, I spotted a kitchenware and knick-knack store called Andalucia, right next to a British chippy. An amusing contrast. After living in Spain for two decades, I now see England with "foreign eyes". What a wonderful way to view your birth land!
May 2013 Hunting for old cameras in antique stores, UK
One of my favourite pastimes in England is visiting antique shops and looking for old still or movie cameras. This visit was no exception and I picked up an object of true beauty: an old compact cine camera with a beautiful leather strap.
May 2013 Roadside Establishments, Spain
It has always amazed me that brothels can be found on main roads and even at the entrance to many small towns and villages in Spain. They are so much part of the landscape that you almost forget they exist, with their flashing neon signs saying "CLUB" and "SAUNA" – I even saw one saying "CHARLIE'S ANGELS"! Driving at night, and during the day too, you can see cars and lorries pulling off the road to stop at one of these"clubs". On a recent trip from Andalucia to Madrid, I lost count of the number of Roadside Establishments which I passed. It's just the kind of subject that could fit into a contemporary photography art project.
May 2013 Association of Photographers of China Exhibition
I was invited by the China Photographers Association to the opening of their exhibition "Beautiful China" in Madrid, at Sala de Exposiciones Ultravioleta, calle Cavanilles 21. An official delegation from the Ultravioleta Photography School arrived to inaugurate the show, and tapas and wine accompanied the beautiful images of China.
May 2013 Social Media crazy with @MrsOaroundtheworld at Finca Cortesin, Casares, Andalucia, Spain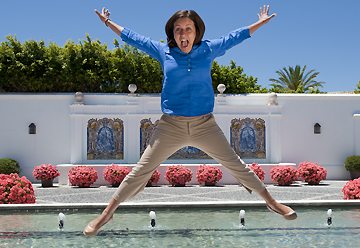 Ana Silva O'Reilly is a Portuguese-born marketing whizz, married to a charming Irishman, who lives in London and loves travelling as much as I do. Ana has a ritual and she's famous for it: wherever she arrives in the world, she does a starfish-like jump.
Whilst in residence at the nearby Hotel Finca Cortesin, Ana asked me to photograph her starfish jump. Ana is full of fun and has oodles of fans on all the Social Media channels following her every move around the world. The jump was captured, with coordinating clothes and Portuguese tiles in the background.
Over a seafood lunch, Ana and I talked the luxe hotel talk, exchanging tips from far-flung places and, as mutual lovers of British Airways, tips on tier points. Not everyone's cup of tea, but we are both on luxury air miles, country-clocking and of course engaged in a serious and exceptional luxury hotel mission. It was an absolute pleasure to meet you, Ana!