May 2011
May 2011 Hotel Hacienda San Rafael, Las Cabezas de San Juan, Seville, Spain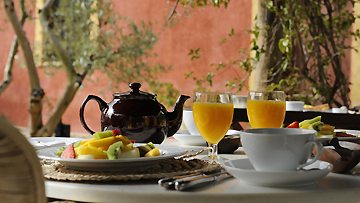 A commission to review Hacienda San Rafael on the outskirts of Seville, for Red Online. After living in Andalucia for 20 years, it was surprising that I had never visited this hotel, as I've heard so much about it. It is quintessential rural Andalucia, all that you can imagine – a very comfortable 18th-century family-run country estate, more like a home than a hotel, with charming hosts, cascading bougainvillea, your own internal patio where you are served breakfast, private pools, a wishing well, orange groves, pepper trees, mimosa and delicious local cuisine. My trip coincided with the orange blossom season and my camera and I couldn't resist capturing the scene.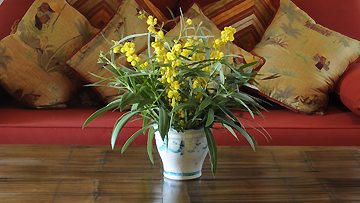 May 2011 May 2011 Photo shoot of a private holiday home in Bendinat, Mallorca, Balearic Islands, Spain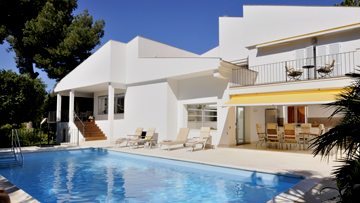 In May I flew out to Mallorca with assistants Joaquin Alarcon and David Doyle, stylist Pam Elson and 125 kilos of camera gear – everything from laptops to lights.
This was my first trip to Mallorca since working on the British Airways magazine Mediterranean Life, and another short trip when I was working on my coffee table book about Spain for Vilo publishers, Espagne.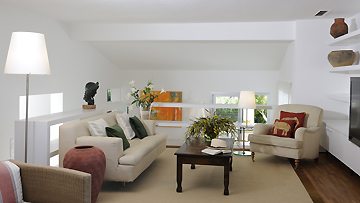 During five full, dawn-to-dusk days of photography, we shot interiors, exteriors, architectural and decorative details; night shots, day shots; bedrooms, dining room, pool, kitchen, maid's quarters, office; terraces, patios, balconies with sea views; alfresco dining – breakfasts, lunch, dinner, drinks by the pool; we even managed to squeeze in a colourful, mouth-watering paella pic and a handful of shots of the area. Working with Andalucia Web Solutions, www.holidaysvillamallorca.com was created. Click on this link for a slide show of Villa Mallorca – it's always a thrill to see the project completed and online.
You can see the details we shot; as with www.hotelessencephotography.com, it's the details that make all the difference, visually capturing the very essence of the location.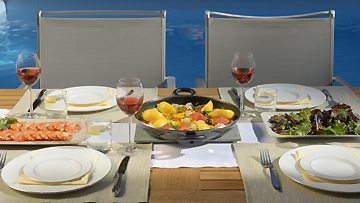 May 2011 May Volvo World match play at Finca Cortesin, Casares, Malaga, Spain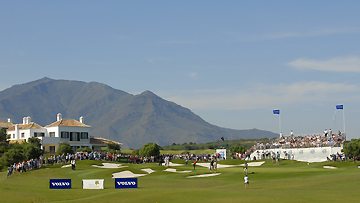 In terms of photography, it's not just the golf and the golfers – it's the location, the spectators, the landscapes, the golf fashion gear, the lush green grass, the blue cloudless skies – so many angles for any photographer to work on during this key spring-time sporting event.
Volvo provides excellent press facilities, with armbands for photographers which include exclusive inner rope accreditation, so you can get as close as possible to the action; plus desk space and secure lockers for your gear, making a photographer's life easier, and helping you to concentrate on capturing the images. A secure locker may sound like a small thing, but the peace of mind gained, knowing that your laptop and additional bodies and lenses are safe whilst you are focused on capturing images on the course, is invaluable.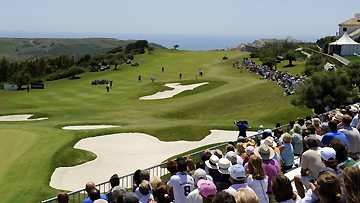 As well as the essential images, such as the winner holding the trophy, on this shoot, I concentrated on the bigger picture. Wide angles of the crowd, views to the Mediterranean, shots of the immaculate Finca Cortesin course with a backdrop to the majestic Sierra Bermeja – all of these provided a "big picture" reportage of both the tournament and the facilities at Finca Cortesin.
Here's a tip for golf tournament photography. Any hole with a grandstand will almost certainly be a signature hole, so make sure that at the start of the tournament, you check out the view – not only from the stand, but behind the stand too, as this can also give an elevated vantage point to otherwise unseen parts of the course. Study the positioning of the hole relative to the sun, and calculate the approximate time when the "big names" will be passing by, so that you have the best vantage point for that winning shot.