July 2014
July 2014 Shoot for Precise Hotels in El Rompido, Huelva, Andalucia
Michelle was commissioned by Precise Hotels to shoot their 5-star luxury hotel and resort ´Precise Hotel El Rompido´, situated just off the Costa de La Luz in Huelva, Spain. She took with her a five-member crew including Sophie Carefull, stylist, and Marcos Meider, an artist in post-production.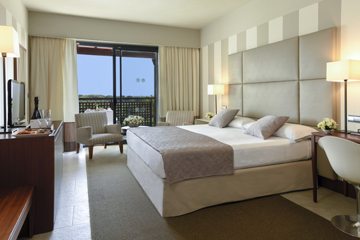 The shoot included ´first light´ shots of the swimming pool, with the golf course providing a scenic backdrop, high dynamic range (HDR) shots of the guest rooms (pictured above) and luxury apartments, executive portraits, shots of the Son Saura ´chill-out´ terrace as well as the two outstanding restaurants, the Biridali and El Faro 'a la carte' (pictured below). Michelle also took the opportunity to capture the village of El Rompido in order to complete the Hotel collection.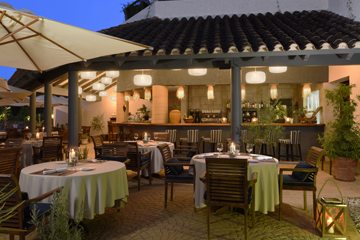 The Precise Hotel Group have several hotels, the majority of which are located in Germany. In addition to El Rompido there are seven others, all of which are just as stunning as the next. More information can be found here: www.precisehotels.com/es/
July 2014 Trip to Paris, France
Michelle flew courtesy of British Airways to spend 4 days in the French capital, during which she visited the new Shangri-La Paris. Having visited a variety of the ´Shangri-La´ hotels across the world, especially in Asia, it was wonderful to see one that she hadn't before in her home continent of Europe. The hotel includes three top-notch restaurants all serving the highest quality food.
Michelle also took the opportunity to take portrait shots of a very dear family friend, a 92-year old French lady, Nancy, who, amusingly, referred to Michelle´s laptop as a ´silver machine´. The chair, which provides the backdrop for the portrait, once belonged to Eugénie de Montijo, the last Empress of the French and the spouse of Napoleón III of France. She was born in Granada in Spain to Don Cipriano de Palafox y Portocarrero (1785–1839), Grandee, whose titles included 8th Count of Ablitas, 9th Count of Montijo, 15th Count of Teba, 8th Count of Fuentidueña, 14th Marquess of Ardales, 17th Marquess of Moya and 13th Marquess of la Algaba. It was a privilege to be able to photograph Nancy in her stunning, old-world Parisian apartment.
July 2014 Trip to Durham, United Kingdom
After having lived for such a long period outside of the UK, it is always a pleasure for Michelle to return to her beloved homeland and shoot some wonderful 'green' scenery and landscape images. Features included wonderful hanging baskets, full of brightly-coloured cascading flowers.
She also took the opportunity to visit Durham marketplace, a historic market in the heart of the city, where she bought some vintage prints #foundphotography. During this trip, Michelle also visited her friends and family which was a delight for her.