February 25, 2013
In
News
February 2013
Febuary 2013 Photo shoot for the Wellesley Hotel, London, UK
Photo shoot for the opening of the Wellesley Hotel in Knightsbridge, London.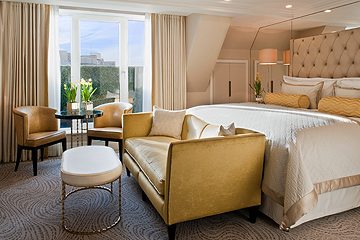 The Wellesley Hotel commissioned Michelle and her crew to provide the inaugural images for London´s latest five-star hotel, a member of the Preferred Hotel Group with an exclusive Knightsbridge address.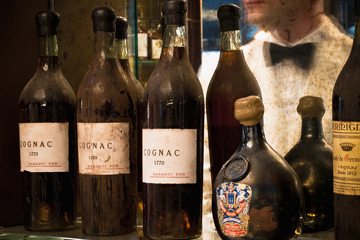 The crew felt very much at home here, as the decor has a strong emphasis on photography, with copious amounts of glamorous movie star photographs on its walls – black-and-white and early colour prints from the 1920s, carefully selected from the Conde Nast Vogue collection. The style is Art Deco, and no expense has been spared – you can read more at Hotel Essence.
The Wellesley's testimonial on our photo shoot, and its results, says it all: "Michelle, thank you so much for the amazing job that you have made of our photography. You and your team were outstanding throughout the process and worked with our hotel team to show The Wellesley in the very best light. Your attention to detail was fantastic and nothing was too much trouble – your team did what was needed in order to get the job done. Thanks again and we look forward to working with you in the future." Anna Starkie, Director of Sales, The Wellesley Hotel, London, February 2013.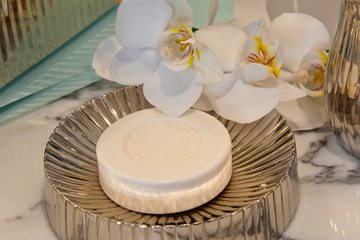 Febuary 2013 Photography Masters Cup, Los Angeles, USA
The International Color Awards, Photography Master Cup is the leading international award honouring excellence in colour photography. This celebrated event, whose 6th edition took place on 16 February 2013, shines a spotlight on the best professional and amateur photographers worldwide, and honours the finest images with the highest achievements in colour photography.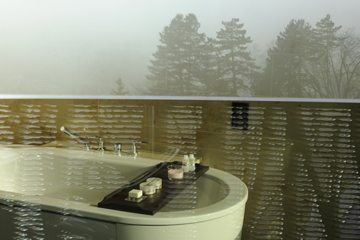 "It is an incredible achievement to be selected among the best from the 8,521 entries we received this year," said Basil O'Brien, the awards' Creative Director. "Michelle Chaplow's "Bathtub at Dawn", an exceptional image entered in the Professional Architecture category, represents contemporary color photography at its finest, and we're pleased to present her with the title of Merit of Excellence." See the image here, along with the other winners in this category.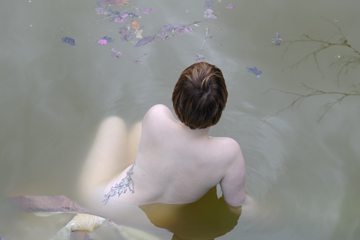 Michelle also received an Honorable Mention for "Hannah" in the Professional Nude category. You can see this image here.
February 2013 Man Ray Portraits exhibition, National Portrait Gallery, London, UK
Sometimes when I´m on tour with my Crew, it's good to go and see some great photography, and on our trip to London for the Wellesley Hotel shoot we went to see the Man Ray show at the National Portrait Gallery. This was the first major museum retrospective of the ground-breaking photographer's portraiture and featured over 150 vintage prints of celebrities from Vogue and Vanity Fair, such as Lee Miller, Marcel Duchamp and Pablo Picasso. The show was an inspiration to us all.
Febuary 2013 Afternoon tea at the Savoy, London, UK
As a lover of fine hotels, only one thing beats afternoon tea at the Savoy: an afternoon in the company of old friend that you haven't seen for years. Heather Banks Nee Monks and Amanda Illsley Nee Grifin, shared an apartment during our student years, so what better place to take tea together and reminisce than the Savoy. Fine tea blends, delicious savouries and the classic Victoria sponge were a delight to us all.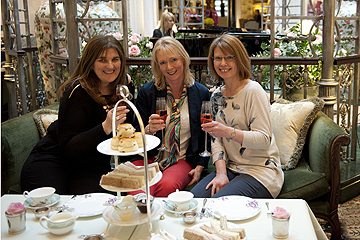 Febuary 2013 The Tate, London, UK
No visit to London is complete without a visit to the Tate. I met with David Clarke, Director of Photography, and he showed a very keen interest in a recent art project that I have been working on: a series of images called "The Pool of Life".
He also wrote a synopsis of the imagery.
"A series of images depicting inner reflection, the passage of time, moments of solitude, bitterness, optimism and hope. All of which contribute to the mystery surrounding the anonymous faceless figures.
There is a heavy presence of symbolism in these atmospheric images, which echoes the romantic yet enigmatic work of 19th century English artists known as the Pre-Raphaelite Brotherhood; the most famous of paintings being Ophelia by Sir John Everett Millais, which depicts the lover of William Shakespeare's Hamlet committing suicide by drowning. She lays alone, half-submerged in a flower-strewn stream. It's a haunting and timeless image which has captivated viewers for the past 150 years. The artist, model and lover, who poses for the painting, Lizzie Siddal, contracts pneumonia and herself dies shortly after, sparking speculation about the emotional turmoil and intrigue surrounding her short life.
This body of work, although simple in execution, tantalizes the viewer and invites further exploration of what lays beneath its hidden depths."
David Clarke
Head of Photography, Tate
Febuary 2013 TEDx Marbella, Andalucia, Spain
Michelle was honoured to be invited to speak at TEDx in Marbella on 8 March 2013. Her Keynote Speech is dedicated to "The importance of photography for Luxury Hotels and destinations".
Febuary 2103 Photos published in French magazine Café Crème
A photo reportage by Michelle on Ubeda and Baeza (Jaen province), produced in November 2012, was published in the French-language, Marbella-based magazine Café Crème.
Febuary 2013 The Opera Carmen at the Royal Albert Hall, London, UK
On behalf of Andalucia.com, Michelle photographed the opera Carmen (which is set in the city of Seville in Andalucia) at London's Royal Albert Hall as accredited press. She took photographs during the dress rehearsal and was privileged to be invited to the opening night.
"An amazing venue, a cast of over 100 people performing in-the-round, superb costumes, flawless orchestra, an incredible performance – totally unforgettable".
"In 20 years as a photographer, I have had press passes to some amazing events, but covering the Bizet's opera Carmen at the Royal Albert Hall, both on the dress rehearsal and the opening night, was unforgettable. It was one of those days when you say, yes I have the perfect job".