February 25, 2014
In
News
February 2014
February 2014 Front cover of Travel+ Magazine, China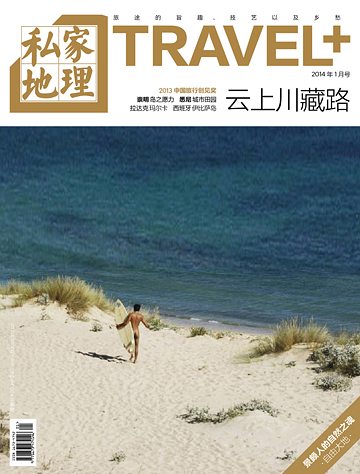 China's leading travel magazine Travel+ Magazine featured one of Michelle's photographs on its front cover, and a series of images depciting Andalucía inside.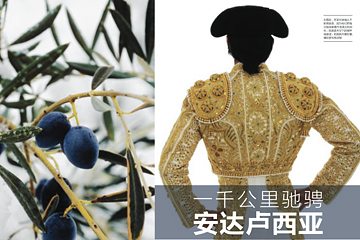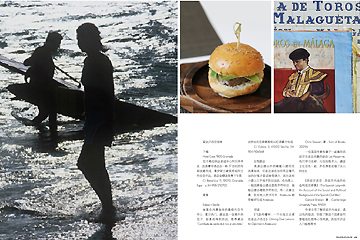 February 2014 Nobu Los Angeles, USA
After attending the opening of Nobu in Monte Carlo, Michelle was delighted to be invited by chef Nobu Matsuhisa to dine at his restaurant in Los Angeles. Michelle's blog post on the culinary delights of Nobu West Hollywood, along with photography, can be viewed here.
February 2014 Four Seasons Hotel Los Angeles at Beverly Hills, USA
When in LA, check into the best address in town. Michelle, who can´t resist clocking up another iconic luxury hotel, did just that and for three nights lived it up in the lap of luxury with her friend Julia Roman, at the Four Seasons Hotel Los Angeles, Beverly Hills.
In her Hotel Essence photography blog, she recounts the highlights of her stay: Sunday brunch, the flowers, the rooftop pool, and the complimentary trips in the Rolls-Royce – wow, that's a lot of highlights. Read on…..
"For those times in your life when you have a real weekend, without work appointments or trips, Sunday brunch is the best meal you can have. I quite often do hotel photo shoots at the weekends, but on this occasion, I was free and loved every second of the three-hour brunch with my good friend Julia Roman.
During my stay at the Four Seasons Los Angeles, Carlos Santana and Ben Affleck were both in residence, although I didn´t see either of them. But I must admit, the star-spotting gets a bit out of hand when you find yourself doing double-takes on guests, convinced they're famous film stars: oh, that must be Meryl Streep in the gardens, and there's Julia Roberts by the pool. This is a fun hotel, and in February, many of the guests were just in from Aspen; I saw furs in the bar and beanie hats by the pool – yes, beanies and bikinis. Apparently it's cool 😉 The Four Seasons Los Angeles has a flurry of activity during the annual awards season."
February 2014 The Getty Center, Los Angeles, USA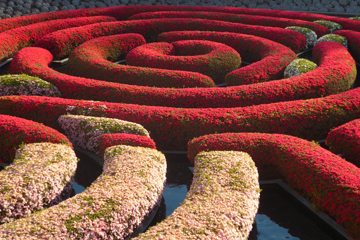 This is a campus of the Getty Museum and other programmes of the Getty Trust. The $1.3 billion Center opened to the public on 16 December 1997. Michelle fell in love with this venue, arriving at 10am and staying all day until 9pm. The architecture is what architectural photographers' dreams are made of. The art collections and landscaped gardens are mind-blowing. The staff, many of whom are volunteers, retired artists and art critics, or just seniors who enjoy the public interaction; the audio guides, on loaded iPhones and iPods; the immaculate cafe with the most delicious salads: Michelle just fell in love with this whole space. The gardens are themselves live art, flourishing around what must be one of the most impressive billion-dollar collections of art in the world. It is, literally, too much to take in over one day. A week in the Getty Centre would be more appropriate.
This particular week the Getty had two new shows, both on till 8 June. A Royal Passion: Queen Victoria and Photography is about the first British Monarch to have her whole life documented by photography. As keen collectors, Queen Victoria and Prince Albert spent many evenings compiling albums, and they purchased works from the pioneering photographers of the day. Many treasured photographs and memorabilia, some on loan from Buckingham Palace, were on display in this exhibition.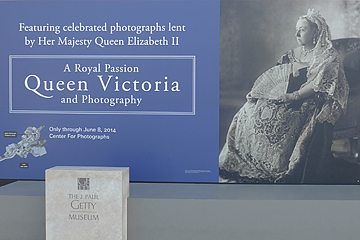 The second exhibition was by Japanese photographer Hiroshi Sugimoto: Past Tense. Since the mid-1970s, Hiroshi Sugimoto has used photography to investigate how visual representation interprets and distils history. This exhibition brings together three series by the artist—habitat dioramas, wax portraits, and early photographic negatives—which present objects of historical and cultural significance from various museum collections. By photographing subjects that reimagine or replicate moments from the distant past, Sugimoto critiques the medium's presumed capacity to portray history with accuracy. His huge photographs of waxworks were so impressive, they seemed to be portraits of living people, such as 16th-century English monarchs Henry the Eighth and Catherine of Aragon, But we know that Sugimoto did not live during that period -he is working today, so the subject was intriguing. Hiroshi Sugimoto a genius. And that evening he gave a free lecture at the Getty Centre – tickets were limited, but Michelle managed to get the very last one!
Lecture by Hiroshi Sugimoto at the Getty Centre, Los Angeles, USA
Sometimes you just happen to find yourself in the right place at the right time, and this was the case for Michelle at the Getty Centre, with front row seats for the lecture by Japanese photographer Hiroshi Sugimoto. The website announced that "Hiroshi Sugimoto speaks about his recent projects, including the series Photogenic Drawings, which take as their subject early negatives made by W.H.F. Talbot between 1835–46. Last year Sugimoto returned to New York City's American Museum of Natural History—the site of some of his earliest work—to photograph new habitat dioramas. He also discusses his renewed interest in previous themes like architecture and movie theaters." The talk was captivating and drew particular attention to exhibition spaces. Sugimoto is so concerned about this that he is currently creating an totally unique space of his very own, right on the ocean, where he can display his seascapes. This blog, from the Wall Street Journal explains the project beautifully.
It was a delight to be in the presence of one of the world´s most highly acclaimed photographers. The perfect end to a perfect day indeed!
Los Angles is a photographer's paradise
You know how some days are perfect days – well, this was one of them. After a revealing and instructive, as well as highly enjoyable, day at the Getty Centre, Michelle discovered that her colleague, Sylvia Herlein Leite from Sao Paulo, was born not only on the same day as herself, but the same year too. Then, at the end of this perfect day, Michelle called a cab from the Getty Museum to her hotel and out of the 10,000 cab drivers in LA, guess what? She got the same Russian driver who took her from LAX airport to her hotel. Small, wild, crazy world!
February 2014 ICANN Meeting Strategy Working Group (MSWG) Face to Face Meeting in the ICANN Head Office, Los Angeles, USA
The MSWG was created to discuss and propose strategy for the structure, purpose and locations of future ICANN Public Meetings and Conferences. This workgroup was formed in 2013 and is chaired by board member Sébastien Bachollet. After almost a year of in-depth discussions and three Face to Face meetings in Beijing, Durban and Buenos Aires, this was the final meeting, to draft the document for Public Comment. Twenty people from around the world including community members, board members and ICANN staff assembled at the ICANN HQ. The meeting was superbly facilitated by information design consultancy Xplane. The draft report was published for community comment and feedback on 25 February 2014.
February 2014 Flying BA over Gibraltar, bordering Andalucia, Spain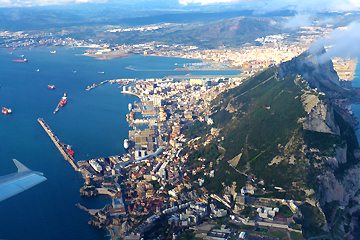 On 1 February, Michelle flew out with her favourite airline, British Airways, from Gibraltar to London Heathrow. Gibraltar is classed as a British Overseas Territory and is located on the southern end of the Iberian Peninsula at the entrance of the Mediterranean. It has an area of 2.3 square miles (6.0 km2) and a northern border with the province of Cádiz in Andalusia (source: Wikipedia). At this time of year, the Rock can be totally green, and is such an interesting geographic feature from the air. Although it's not uncommon to have aborted landings, the regular service to Heathrow is very convenient. British Airways have recently changed restrictions on the use of techno-gadgets with flight mode enabled, and Michelle was able to capture the Rock from directly above on her brand-new Leica C camera.
April 2014 Quality 36, Estepona, Spain
Living in a coastal town, it's always a treat to see the world from the sea. Michelle sailed with the Quality 36 brothers and a group of journalists from Estepona to Sotogrande. The group experienced ideal conditions with a poniente (westerly) wind, perfect for sailing. Michelle dined on board and would recommend such an excursion to anyone who comes to the region.
April 2014 Mention in El Mundo newspaper, Spain
In her weekly column, Martini del Mar, Malaga journalist Berta Gonzalez de Vega talked about Michelle's photos of Finca Cortesin. Read the article here.
April 2014 Renovation of the streets in Estepona, Andalucia, Spain
Michelle loves wandering around her adopted home town on the Costa del Sol and photographing the buildings, a delightful mix of old and new, as well as the sea views. Recently the town hall has invested in the renovation of many streets and squares in Estepona, which makes them all the more photogenic. In April Michelle collected several stock images of the cascading Mediterranean plants and colourful flowers that have transformed Estepona.
April 2014 NH Collection Open, Sotogrande, Andalucia, Spain
On behalf of Andalucia.com Michelle attended the NH Collection Open Golf Tournament at La Reserva de Sotograndethis event as press. María AcaciaLópez-Bachillerhas dedicated more than 30 years to organising golf press events, and she took a photo of all the press representatives in attendance, which will be a lovely souvenir for Michelle for years to come. The winner of the tournament was Marco Crespi from Italy.
April 2014 HDR High Dynamic Range in Casares, Andalucia, Spain
Continuously striving to improve her photographic technique, Michelle chose one of the most beautiful villages in the whole of Andalucía and Spain to set up an HDR photograph of this emblematic white village. She used the Christian cross in the foreground, with fill-in studio flash to accentuate the cross, giving it a silhouette effect, contrasted with the remains of the Moorish castle directly behind, and a glowing golden horizon in the distance.