June 2012
June 2012 Michelle Chaplow invited to be Keynote Speaker at "Far From Ordinary", the Preferred Hotels Group Annual Conference in New Delhi, India October 2012. Preparative meetings, Madrid, Spain

Michelle is honoured to be a keynote speaker at the 2012 Preferred Annual Conference, to be held in New Delhi, India from 17-21 October. Michelle will speak on the importance of Far From Ordinary photography in hotel imagery; other speakers include John Andrews, of The Economist; entrepreneur Simon Woodroffe, of YO! Sushi and YOTEL hotels; and Terry Jones, founder of Travelocity.com
Within the programme she will give a keynote speech and two workshops on the practical considerations of hiring a photography crew to shoot your hotel. Michelle travelled to Madrid to meet Louise Meyer, Vice-President Hotels of VFM Leonardo Inc., the hotel imagery and marketing company, to plan the two workshop sessions.
June 2012 Commission from The Sunday Times to photograph author and entrepreneur Richard Koch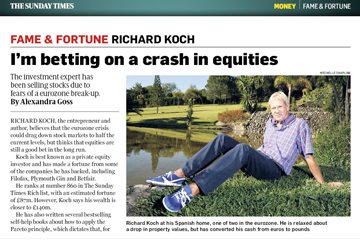 Michelle was commissioned by The Sunday Times to carry out environmental portraits of Richard Koch on location at his Spanish villa. Shots were taken by the lake and pool in the grounds of his luxury home.
Richard, a self-confessed "lazy entrepreneur", has written several self-help books based on the 80-20 Pareto Principle (80% of results stem from 20% of cause or effort), however much of his estimated £140 million fortune came from private equity investments.
June 2012 Photography commission from ICANN 44 in Prague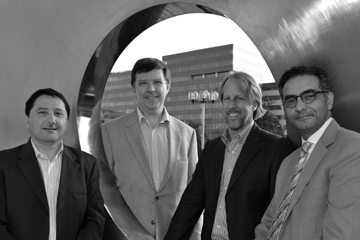 Michelle was commissioned by ICANN (the Internet Corporation for Assigned Names and Numbers) to carry out a photo shoot to create stock photography and marketing material for the organization. The shoot included photos of the incoming and outgoing CEOS: a group shot of the last four CEOS, as well as executive portraits, and the board of directors, the community, and specific marketing images which will be incorporated into the ICANN photographic collection.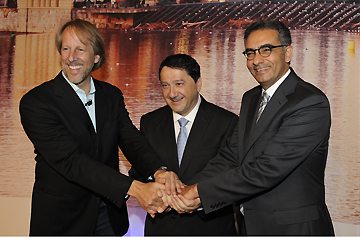 June 2012 Photo Shoot at the Hospes Hotel in Madrid, Spain
The Hospes Madrid is quintessential old Spain, nestled snugly in the Barrio Salamanca, looking right onto the Iconic Madrileño Puerta de Alcala, a blend of tradition and urban city chic. An 1883 building which has been lovingly restored, it is a magnificent example of Bourbon period architecture. Situated in the stylish Salamanca streets, with immaculately dressed well-heeled ladies stepping onto public transport, the Hospes Madrid sits elegantly in a semi-circular plaza, in a world of its own. With evening alfresco dining and a small but well-equipped spa, it's a hotel to recommend.
Michelle´s most memorable photographs were: the attic relaxation area of the Bodyna Spa; breakfast in bed; the freestanding bathtub, with views to the Puerta de Alcala, discreetly camouflaged by chestnut trees with their beautifully-shaped leaves, allowing just enough dappled light into the room; and The Senzone Bar.
June 2012 At the ME by Melia Hotel (a Preferred Group hotel), Madrid, Spain
Formerly the Grand Hotel Reina Victoria, this hotel has been famous since the day it opened in 1923, when aristocrats, diplomats, artists and bullfighters flocked to it. Manolete, the famous matador who passed away in 1947, always chose room 406; Hemingway stayed here; and this is also where Merimée started writing Carmen, the novella on which Bizet's opera is based. British architect Keith Hobbs of United Designers was commissioned to revamp the property for Sol Melia, and this became the first hotel of The ME brand in 2005-2006.
This hotel is city-cool, contemporary urban, with funky fittings, but also history and elegance. It also has an "Experience Manager", a new role designed to enhance guests' stays with extra touches such as personalised messages, aimed specifically at each guest and their interests, or the reason for their visit (in Michelle's case, "Dear Michelle, welcome to ME! Enjoy your photos… "). As someone who has stayed in hundreds of luxury hotels all over the world, Michelle was blown away by the thoughtfulness and originality of this idea.
Whilst there, apart from bumping into Javier Bardem and two of the Almodovar actresses, Michelle photographed the roof terrace, where celebs are known to hang out, the panoramic views of the city, the pillow gifts, the notes written on her bathroom mirror and other quirky hotel features soon to be uploaded to Hotel Essence Phtotography.
June 2012 The sixth model for "The Pool of Life "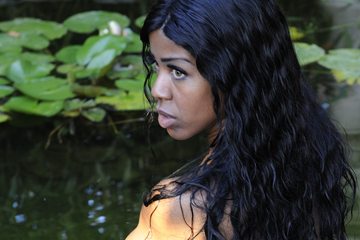 This project, part of Michelle's contemporary photography course at CAC Malaga, was inspired by the style of imagery currently emerging from the Helsinki School of Photography. The sixth shoot for the project took place in two locations: first, in the empty swimming pool of model Yamaia´s Marbella villa, while a second series of images was shot in a natural pool surrounded by lotus leaves, water lilies and tropical fish.
These images will be shown as a series of shoots carried out during a six-month period by Michelle. Six months, six (female) models. All the locations have featured empty or abandoned pools, and the images captured draw upon elements of light, body language, water and solitude, depicting a story of feminine inner reflection.
The images were presented at the CAC (Contemporary Art Museum) in Málaga on 12 July 2012. An exhibition is planned for later this year, so keep an eye out for more details in the next few months.
June 2012 Photo shoot for the Iron Gate Suites Hotel, Prague, Czech Republic
The images from this shoot will form part of Michelle's talk to be given in New Delhi later this year (see above). Michelle concentrated on details that capture the essence of this exceptionally well-located five-star hotel in the magical city of Prague.
June 2012 PRESS RELEASE Seven nominations in the 7th Black and White Spider Awards, London, UK
Michelle was nominated in a whopping seven categories at the Nomination & Winners ceremony for the prestigious 7th Annual Black and White Spider Awards PhotoShow, the leading international awards for both amateur and professional monochrome photography.
The professional categories in which she was nominated are:
Fine Art | Bath Time
Still Life | Glam Games
Abstract | New Shiny Objects
Advertising | Five
Architectural | A lotus flower and an airplane
Fashion | Yamaia
Silhouette | Leaping Hare on Curly Bell
The live online ceremony webcast on 9 June 2012 was watched by photography fans in 72 countries, who logged on to see the climax of the industry's most important event for black and white photography.
The international awards jury included influential names from National Geographic (US), Fratelli Alinari Photography Museum (Florence), Heffel Fine Art (Canada), and Bonham Auctioneers and Tate Gallery (London), who honoured Spider Fellows with 132 coveted title awards and 875 nominees in 14 categories.
"It is an incredible achievement to be selected among the best from the 8,223 entries we received this year," said Basil O'Brien, the award's Creative Director. "Congratulations on being a Nominee."
You can view the 7th Annual Winners Gallery here.
Black and White Spider Awards is the leading international award honouring excellence in black and white photography. This celebrated event shines a spotlight on the best professional and amateur photographers worldwide and honours the finest images with the highest.