June 2013
June 2013 Photo Commission from the Park Hotel Vitznau, Lake Lucerne, Switzerland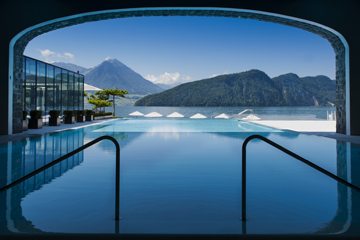 This is a hotel with more than 100 years of history. I was commissioned to shoot images for an elegant hardback coffee-table book by Andreas Augustin for The Most Famous Hotels in The World®, due for publication in January 2014.
The photography included the hotel's exterior; the state-of-the-art spa; the infinity pool, which I'm sure you will soon see in the world's greatest hotel pools – it features a picture-frame window offering unrestricted views to Lake Lucerne with a backdrop of the Swiss Alps; a selection of guest rooms; the nearby village; boats reminiscent of paddle-steamers that make that deep foghorn-type sound when they arrive and leave the village; food photography; and portraits of staff at home in the hospitality industry, from room service portraits to executive team images.
When you sit in the gardens of this hotel on the shores of Lake Lucerne, looking out to the snow-peaked Swiss Alps and the chocolate box village of Vitznau, you know this is a paradise, and that Josef Anton Bon the original owner, who purchased the land over 100 years ago, was both a visionary and a genius.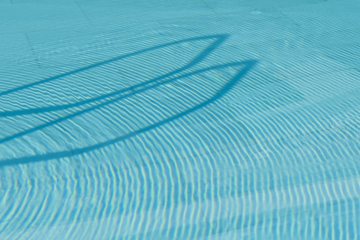 The complete selection of images and a review of Park Hotel Vitznau can be viewed here.
June 2013 Lecture by Pierre Gonnord at the CAC Malaga, Andalucia, Spain
I attended a lecture by French-born photographer, Pierre Gonnord, who lives in Madrid. Pierre specializes in portraits that resemble paintings from the Great Masters; an air of Velazquez, with moody lighting. His work is represented by the Juana de Aizpuru Gallery in Madrid. Recently Pierre has shown his portraits together with landscapes in the same exhibition. Without doubt Pierre is a genius – his portraits of men and women who have spent their working lives outdoors doing manual labour, in the mines of northern Spain, show each and every detail, each facial line, showing a chronological facial landscape. It's said that wrinkles come from the soul, and standing in font of a portrait by Pierre you cannot fail to be moved. Each work bears the name of the subject.
June 2013 Oberoi leads its "Summers are for Holidays" campaign with an image by Michelle Chaplow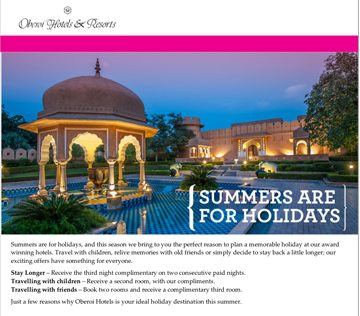 The Oberoi Group, whose head office is in New Delhi, was founded in 1934, and owns and/or operates 30 hotels and three cruisers in five countries. Oberoi Hotels and Resorts was voted the World´s Best Hotel Brand in 2013 by readers of Travel + Leisure magazine; it remains one of the most decorated hotel chains in the world. The image used to lead their campaign was shot at sunset at the entrance to the Oberoi Rajvilas in Jaipur.