June 2010, Singapore. Mandarin Oriental hotel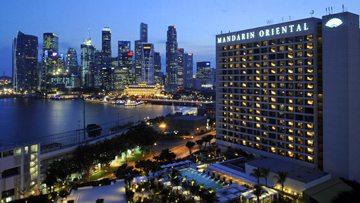 Michelle returned to Singapore to complete her photography assignment for the Mandarin Oriental hotel in Singapore. The skies of Asia are constantly changing and the second trip gave additional days to capture those super-blue skies.
This new pool area has a "resort feel" to it – the perfect city oasis. The tropical climate of Singapore means that luxuriant exotic flowers and foliage grow bountifully. The architects have carefully integrated nature into their design, not only enhancing the visual appeal but providing more interesting angles for a photographic reportage.
On this second shoot for the Mandarin Oriental, Michelle captured various night shots, one of which has been used as a signature image on the Mandarin Oriental website.
June 2010, Brussels, Belgium. Sofitel Le Louise hotel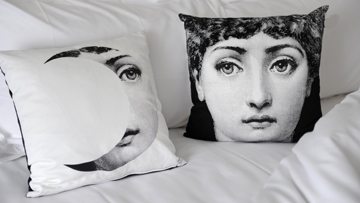 Michelle's decision on where to stay in Brussels, whilst on assignment, was based purely on the hotels' online imagery, and the Sofitel Le Louise came out on top. The hotel is located in the exclusive Avenue Louise quarter.
Slick design, great beds, and a functional escalator with a flamboyant chandelier above it, were all ideal potential ingredients for photos.
The Crystal Lounge, with its symmetrical bar and late-afternoon light streaming in through wafer-thin wooden blinds, provided Michelle with striking highlight and shade patterns in the dining area to capture on camera. Silver tables and spider plants in the reception plus the red, red, red artwork in the restaurant, all provided great photo opportunities. These images will also be incorporated into Michelle´s new forthcoming venture, Hotel Essence Photography.
June 2010, Koh Samui, Thailand
Michelle only took one body and one lens to Koh Samui, but commented that it is surprising what you can create with so little equipment.
In her workshops, Michelle often asks her students to spend a session working just with one body and one fixed lens. The idea is to focus your mind completely on framing the world using that particular focal length (for example, a 35mm lens). Obviously a zoom gives you flexibility, but it´s not a bad idea, sometimes, to get back to basics, and create images with less equipment. Thailand is often known as the land of smiles, which gives the photographer endless photographic opportunities – for Michelle, it was more like the land of photos!
June 2010, Brussels, Belgium. ETNO
Etno is the European Telecommunications Network Operators Association.
Michelle was commissioned to photograph a business networking event at The Square meeting centre in the Belgian capital Brussels.
The event took place in the late evening, with natural light flooding into the top floor of the building. The expansive windows and a little fill-flash created superb conditions for executive and social portraits.
The event took place during the 38th Public Meeting of ICANN (Internet Corporation for Assigned Names and Numbers). In this European capital city, members of the ICANN business community & ETNO, local business leaders and guests joined forces, creating a very successful outreach event.
June 2010, Brussels, Belgium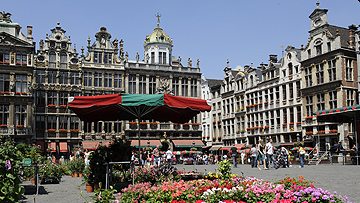 Can a photographer leave a city like Brussels without having photographed a collection of stock imagery? Michelle claims not. Stock photos of The Grand Place, a UNESCO World Heritage Site, rows of colourful bicycles, the iconic Atomium, outdoor cafes, street art, to name a few, are now incorporated into her ever-growing photographic stock collection.