March 2014 Raffles Hotel photo shoot, Singapore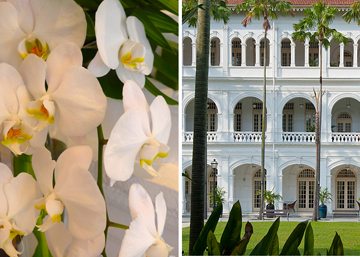 Raffles Singapore is renowned worldwide as a landmark historic hotel, but also as a national monument of Singapore. Having always loved that magical combination of history and luxury, Michelle was delighted to carry out a commission at Raffles Singapore. The shoot focused on afternoon tea, served in the famous Tiffin Room; exquisite chocolates and champagne to be enjoyed whilst taking a luxurious bubble bath; tropical gardens; exteriors; the Long Bar; and the doorman. Michelle experienced tropical weather throughout her stay, with short, heavy downpours each afternoon, which helped to bring out the rich greens of the garden foliage.
Michelle photographed the Long Bar, where peanut shells are famously allowed to be dropped on floor by guests enjoying specially prepared 'Singapore Sling' cocktails, invented here. This is unusual in a country such as Singapore where the rules on dropping litter are very strict, with a $1,000 fine.
It was an unforgettable experience for Michelle to arrive at Raffles and be greeted personally by the famous doorman in his formal dress uniform, and even more so to check in and see the grand building from the inside. It was interesting to shoot the afternoon tea, with visitors from all around the world queuing and peering curiously through the window – especially as she had once also waited in line herself for the afternoon tea. That's one of the great things about photography; it allows you to get behind the scenes.
Michelle said:"I have been lucky enough to experience all three Raffles worlds:as a tourist, visiting a national monument which happens to be a hotel; as a hotel guest in residence; and working with the staff behind the scenes. These windows on three worlds are only available to the photographer; it´s almost a three-dimensional experience, and a privilege indeed."
See a selection of Michelle's photos of Raffles here.
March 2014 49th ICANN Public Meeting, Singapore
Michelle flew with British Airways to Singapore to attend ICANN's 49th Public Meeting as part of the Meeting Strategy Work Group (MSWG), where their proposals were presented to the community. Michelle also had the privilege of shooting the 'Women in the DNS' breakfast photo, as well as images of the ICANN fellowship. Michelle and the rest of the Meeting Strategy Work Group Report reported to the GNSO council and the community an update of their report for the future strategy of ICANN Meetings.
March 2014 Fairmont Singapore. Anti:dote restaurant, with Catalan chef Carlos Montobbio
Dynamic young Catalan chef Carlos Montobbio – who previously worked at El Celler de Can Roca, the world's best restaurant – swapped his Spanish chef's "whites" for "blacks", including a bowler hat, and is now head chef at Anti:dote, in the Fairmont Singapore. The contemporary restaurant offers a fusion of Spanish and Asian tapas and the most wonderful cocktails, using aromatic herbs from the bar's own herb garden. The Fairmont website claims that the Anti:dote Cocktail Bar by "Combining the craftsmanship of traditional bar-tending and the artistry of experimental mixology techniques, classic recipes are reinterpreted with contemporary flair".
Food is best eaten with friends, and avid social media guru Charles Yap @CharlesYap joined Michelle for the evening.
Our Asian Tapas included: braised veal with caramelized shallots and black truffles; signature gluten-free pizza with a Parmesan crust, and sprinklings of olive oil spheres and garlic and tomato powder; yellow-fin tuna skewers; oysters with passion fruit – Michelle's favourite; and passion fruit marshmallow with chorizo.to name a few. The resident DJs, and the relaxed lounge style atmosphere, make this a venue not to be missed.
To complete the Fairmont experience, Michelle found that the signature treatment at the Willow Stream Spa is, indeed, everything its reputation promises.
March 2014 Mandarin Oriental, Singapore
Michelle returned to the Mandarin Oriental for first time since photographing their gorgeous pool. It was so good to meet up with Usha Brockmann, Director of Marketing and Communication, and General Manager, Christian Hassing.
March 2014 The Pool of Life, f:11, Spain
Michelle's ongoing contemporary art photography project 'Pool of Life' was featured in a 10-page piece in Spanish photographic magazine f:11. The project continues to expand and Michelle plans to photograph three more models to add to the series in 2014. Digital Magazine with Michelle's images on pages 51-62 The Pool of Life.