June 2014 Photo shoot at 66 Royale Street, Benamahoma, Cadiz, Andalucia, Spain
Michelle received a commission to photograph a charming three-storey house with a pool in a small village called Benamahoma in the Sierra de Grazalema (Cadiz). The house has five bedrooms, two spacious lounges, three balconies and a terraced garden full of cascading plants leading down to the swimming pool.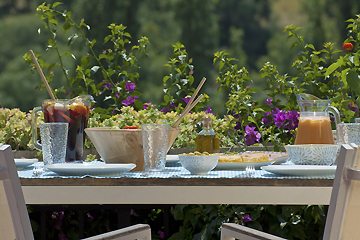 Michelle and her team photographed all the living spaces as well as breakfast on the balcony, a Mediterranean lunch in the garden,and afternoon tea in the shade, featuring products from the area including local honey and magdalenas (Spanish cupcakes). With the help of the team's local guide, Quitin, Michelle's stylist Sophie Carefull picked wild flowers to decorate the house, choosing candy pinks and oranges to match the summery feel of the holiday home. This is a dreamy holiday home and the crew created "Take me there" lifestyle images including drinks by the pool which will encourage reservations from potential guests around the world.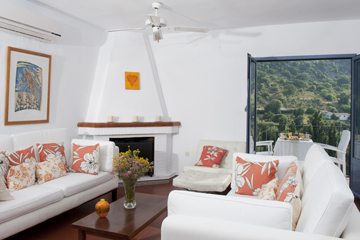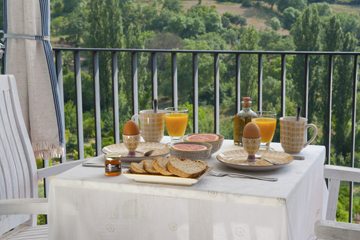 June 2014 Stock photography in Benamahoma and Grazalema, Andalucia
It so happened that the weekend Michelle spent shooting the holiday home in Benamahoma coincided with a very important festival for the village, the Romeria de San Antonio, which is the pilgrimage of their patron saint. It was a grand occasion, with a large proportion of the village's 500 inhabitants taking to the streets in their smartest attire to follow the statue of San Antonio de Padua from the church which bears his name, around the village and back to the church again, where he spends the rest of the year.
The procession, which also featured music from the town band, took about two hours and was a great opportunity for Michelle to photograph the delightful streets and to capture the community spirit of village life. With children skipping and singing nursery rhymes together in the street, it was almost like travelling back in time!Michelle was also able to photograph the nearby white village of Grazalema with its pretty church square and geranium-laden streets.
June 2014 ICANN Conference, London
Michelle flew with British Airways to London for ICANN's 50th Public Meeting. Once again Michelle had the privilege to photograph the 'Women in the DNS' group portrait, as well as CEO Fadi Chehade at the opening ceremony which this year featured some long-awaited cultural entertainment in the form of the Welsh Male Voice Choir.
June 2014 Meeting with David Clarke, Head of Photography at The Tate, London
Whenever Michelle is in London she endeavours to meet up with David Clarke, Head of Photography at the prestigious Tate Gallery, to discuss contemporary art and both of their latest projects.
June 2014 Afternoon tea with Larry Horwitz of Historic Hotels Worldwide at the Dorchester, London
A long-time fan of historic hotels, Michelle was delighted to be able to meet up with Larry Horwitz, Executive Director of the Preferred Hotel Group and Historic Hotels Worldwide, an organisation which holds heritage tourism and historic preservation close to their hearts. Michelle and Larry chatted over afternoon tea at the Dorchester Hotel, discussing the role of history in the luxury hotel sector and the importance of far from ordinary photography in capturing the essence of heritage hotels.
June 2014 TravMedia event with @mrsoaroundtheworld at The Guards Museum
Michelle is passionate about travel and a great believer in the power of social media as a tool to share and promote this passion; in this way Michelle and Ana Silva O'Reilly are kindred spirits. Luxury travel blogger Ana hails from Lisbon and now lives with her family in England, although she doesn't spend much time there as her worldwide trips are always stealing her away! As part of an event called #travmedia, which aims to connect journalists and travel PRs, Michelle and Ana enjoyed cocktails at the Guards Museum with Google travel editor Fi Quinn (@fi_q) and travel PR professional Lynsey Devon (@devonone). Michelle really enjoyed meeting up with these lovely, like-minded ladies and swapping stories from all their luxury travel adventures. It was also a pleasure to meet travel writer Julie Falconer (@aladyinlondon), train travel expert Sophie Collard (@sophontrack) and regional director of TravMedia Howard Salinger (@howardtravmedia).
June 2014 Marbella Luxury Weekend, Malaga, Andalucia, Spain
For the fourth year running the exclusive coastal resort of Puerto Banús played host to Marbella Luxury Weekend, four days of cultural events including catwalk shows, car shows and cocktail parties which all aim to showcase Marbella's high-end brands. Michelle attended the very informative Foro La Zagaleta, a day of keynote speeches and presentations from luxury brand representatives. The conference closed with an invite-only cocktail dinner catered by the world-renowned Dani Garcia. The innovative chef didn't fail to please with his codfish tempura, salmon waffles with sour cream and especially the fresh oysters, each featuring its own pearl. Dessert was even more delightful; the glamorous attendees loved the miniature ice cream cones topped with mango candy floss and marshmallows.
June 2014 King of Spain abdicates in favour of his son Felipe IV
18 June was an historic day for Spain as Juan Carlos I signed his abdication into law and his son Felipe IV was sworn in as the new King of Spain. Michelle has been privileged to meet in person King Juan Carlos and Queen Sofia at La Zarzuela Palace after doing a photo shoot for the Library of Congress. She also met the incoming king Prince Felipe and his wife Princess Leticia and had a brief conversation about photographing the Science Park in Valencia, including the Museo de las Ciencias Principe Felipe.