August 2012 Michelle Chaplow is now an official photographer for the Spanish Paradors
Michelle signed a three-year contract to be an official photographer for the Spanish Parador hotels. Paradores de Turismo de España is a chain of Spanish luxury hotels, founded by King Alfonso XIII of Spain in 1928. These unique hotels, created to encourage tourism, are often in castles, palaces, fortresses, convents, monasteries and other historic buildings.
Michelle has always admired the Paradors and has visited over 50 (of the 100 or so) during her time as an editorial and travel photographer in Spain. The Jaen Parador, in a 13th-century castle on a hill above the city, is one of her favourites. Michelle is honoured to have been chosen as a photographer for these hotels – a mark of achievement in the world of hotel photography and a highly sought-after role, and she feels that her fresh view of the hotels through foreign eyes may help the Paradors in marketing their unique product.
Michelle met Pablo at the London Book Fair and he said that it was a privilege to live in another country and see the world through foreign eyes – how true!
Article published in Sur in English on Michelle's Parador contract:
English woman snaps up top Spanish photography job: Brit beats hundreds to work as an official photographer for Parador hotels
By Ash Bolton
An English woman is celebrating after snapping up a job as an official photographer for the "Paradores" Spanish hotel chain.
Estepona-based Michelle Chaplow beat off competition from hundreds of photographers after a three-year contract was put out for tender by the state.
Now the 48-year-old is set to travel across the country taking photos to boost tourism in hot spots such as Ronda, Granada and Leon.
Michelle, originally from Durham in the UK, told Sur in English: "I feel really proud that I got the job. It´s very prestigious.
"One of the things that went in my favour is that I must have visited almost half of the Paradors and I can see the imagery through foreign eyes. This is very important for marketing purposes and for people who want to come and visit Spain and see important historic buildings and monasteries."
Michelle, who has been professional photographer for the past 20 years, studied photography at Seville University and in the contemporary Art Museum in Malaga. She moved to Spain in 1991 to set up a photography business after spending a gap year in South America taking photos. In 1995 she was also awarded a photography contract by the Spanish Tourist Board to document the coastline from Alicante to Huelva.
August 2012 Michelle teams up with top internationalist stylist Dennie Pasion for one-day "Make Believe" workshop. Estepona, Andalucia, Spain
A one-day course for make-up artists, hair stylists and photographers.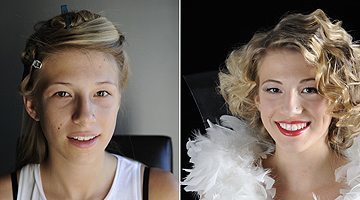 International artist and motivational speaker for TEDX, Dennie Passion, flew in from Dubai to demonstrate her tricks and trade secrets in hair and make-up techniques accredited to red carpet celebrities such as Dita Von Teese, Kangana Ranaut and Liz Hurley.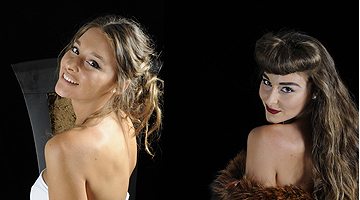 Dennie collaborated with award-winning photographer Michelle Chaplow to create a Hollywood-inspired fashion shoot. Dennie's portfolio includes work for Harper's Bazaar, Vogue and Grazia.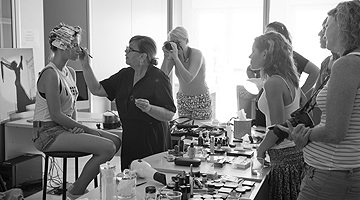 Together the crew took "before" and "after" shots as the models were transformed. Michelle explained techniques for photography using a simple one-colour velvet black background, minimal props and the combination of dual flashes, occasional backlighting for high highlights, plus an optional variation of one single-light head source.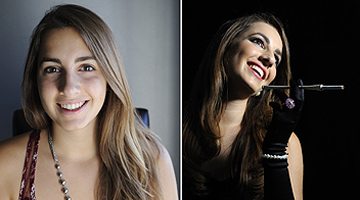 The workshop took place in Michelle´s studio in Estepona, and a tentative date was made to run this successful one-day course again in August 2013.
August 2012: Photo feature for French magazine Café Creme
Michelle produced a photo feature using stock photography collated over various years on the newly-fashionable province of Almeria, Andalucia, Spain.
August 2012 Simple Minds live concert in the Marbella Auditorium, Andalucia, Spain
Michelle attended the Simple Minds concert, part of the Starlite Festival Marbella. The concert took place at the Marbella Auditorium – a great venue built on the site of the old quarry by three visionaries – Alfonso Hohenlohe (founder of the Marbella Club hotel), Julio Iglesias and Plácido Domingo – 30 years ago.
This quarry, which is situated above the town of Marbella in the Sierra Blanca, was the source of the rock to build projects such as Puerto Banus, but was then abandoned until this year, when the Starlite Festival relaunched the 600-seater venue.
A summer evening under the stars with a touch of press photography.