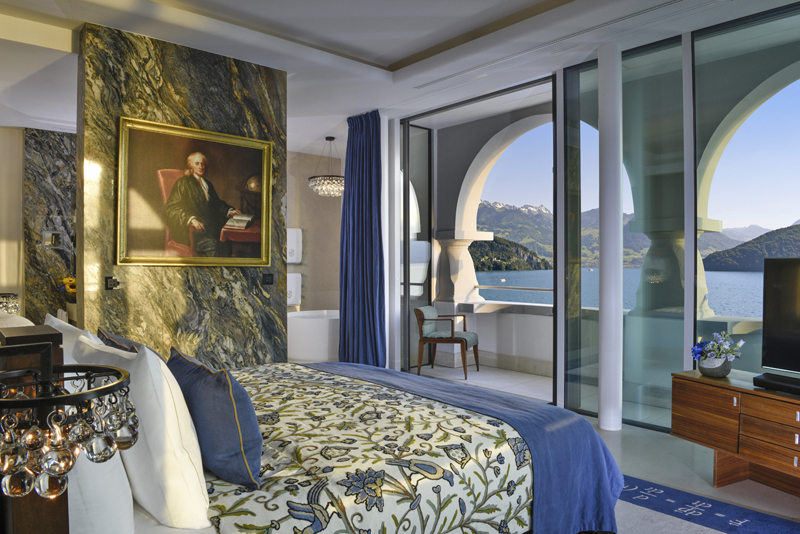 JUNE 2017 VITZNAU, SWITZERLAND
Photography assignment for Park Hotel Vitznau
Park Hotel Vitznau is also a member of Leading Hotels of the World, a historic heritage property that Michelle has photographed three times in the last four years. Park Hotel Vitznau understands the power of photography and is constantly upgrading its archives.
Park Hotel Vitznau provided an excellent photo brief with clear examples of style and imagery. While this must have taken their graphic design team some time to prepare, it reaped rewards as the photography crew was able to hit the ground running.
On Michelle's last photo shoot for Park Hotel Vitznau, the team were knee deep in snow. This time Michelle returned in the glorious Swiss summer – June is a superb month for photography in Europe. Michelle worked with a four-person crew on this project: Michelle Chaplow – Photographer, Joaquin Alarcon – Assistant Photographer, Sarah Gatward – Production Assistant, and Chris Chaplow – Production Manager.
The floral arrangements on this assignment were created by Park Hotel Vitznau's in-house stylist, who is only in her twenties. The advantage of having an in-house florist is that they are extremely familiar with the colour palette of the rooms, and know which flowers will complement each room. As all the rooms in Park Hotel Vitznau are individually decorated, the importance of this cannot be underestimated.
The shot list for Park Hotel Vitznau included the banqueting suite, conference room set-ups, the lounge with views to the lake, a collection of suites and bathrooms, imagery from the luxurious spa, the Chef's Table (Park Hotel Vitznau's Focus restaurant has two Michelin stars), views over Lake Lucerne, and those all-important Hotel Essence photography details.
Need an image of Park Hotel Vitznau? 
As a photojournalist, the press site and image library of Park Hotel Vitznau is one of the best Michelle has ever seen, with well-organized the images which are easy to download. So many hotels around the world miss out on editorial copy because downloading images from their press site is too slow, and/or complicated. Not the case here, from Focus to their fabulous Spa, image retrieval is as smooth as silk.
Photography assignment Feedback: Urs Langenegger, General Manager: "WOW! The images are just fantastic! Thank you!"
Romano Bassi, In-house Graphic Designer for PHV and partner atUltra Lounge Design Company: "These three images are mind-blowing, awesome, absolutely brilliant!"
It's always a pleasure to work for Park Hotel Vitznau, one of the most spectacular locations in the world.
View more images from the assignment here