2019 Photography highlights
After many years of documenting my photography projects on a month-by-month basis, I have decided to change how I update my readers on this website. From now on, I will divide up my travel and hotel photography assignments into an annual round up, hand-picking highlights from spring, summer, autumn and winter to share with you here on my website.
---
Photo shoot for the Fairmont Rey Juan Carlos I Hotel, Barcelona, Spain
Michelle photographed this magnificent five-star property, whose luxurious, stylish rooms offer views of the city, mountains, and lush subtropical gardens and swimming pools. The hotel has a resort feel and yet is only a 15-minute walk from the iconic Camp Nou Football stadium, while for those attending conferences, the Palau de Congresses of Cataluña is right on the doorstep. This hotel is located on Avenida Diagonal, in the heart of Barcelona's financial district; a superb venue for either business or pleasure.
Lifestyle photography
As hotels evolve, customers crave new imagery, and Michelle had the pleasure of working with model and fashion stylist Giselle Garcia. Her brief was to capture cycling, running, and family images within the 25,000m2 grounds of the Fairmont Barcelona. Michelle was also looking to capture some of those wonderful #fairmontmoments. Lifestyle photography is, essentially, capturing the art of the everyday, and using models can help guests to imagine what it would be like to go running in the gardens, cycle through the resort, lounge by the pool, and just chill with the family.
Rooms photography
Guest rooms at the Fairmont Rey Juan Carlos I boast mountain and sea views. Capturing the architecture and interior design of the rooms is important, but the crowning glory is always the view. A room with a spectacular vista is so important to many guests. On average it takes about two hours to prepare each room for the photo shoot: this includes our stylist making the beds meticulously, clearing surfaces of clutter, and arranging beautiful white fresh flowers; also interior lighting must be correct,, and of course blue skies in daylight – or, if preferred, evening light. Naturally, the mood of the room changes throughout the day from dawn through to midday and then afternoon and dusk. When the meteorological conditions are not ideal for shooting, then the schedule is adjusted to ensure that all hotels rooms are shown in their very best light.
Hotel pools and lifestyle photography
There is something about blue that appeals to the human eye, and to our aesthetic sensibilities, and the vast Fairmont swimming pools with their linen daybed curtains blowing gently in the breeze, create a great backdrop for lifestyle photography.
Pools and architectural photography
Architectural photography is all about symmetry, and the "catwalk" that runs right down the centre of the pool is very appealing to photograph. The scene changes dramatically between sunrise and sunset, and even though Michelle was only commissioned to carry out daylight imagery, I knew that adding in a night shot would provide extra value to the project. It took quite some coordinating to have everything pristine, with the maintence team on board to help out with garden and pool lighting. However with the Fairmont communications director present, Michelle was able to capture this additional photo, offering a different perspective: a new image that until this year the property did not have in its hotel photography portfolio.
---
Stock Photography in County Durham and Northumberland, UK
It's always a pleasure to capture scenes in my home town in County Durham and bordering Northumberland. So much has changed, yet so many landscapes featuring historic monuments such as castles remain the same throughout the years. Did you know that County Durham has more castles per square mile than any other county in England, while Northumberland has the highest number of castle sites – more than 70.
---
Instagram Influencer Mizzellaa. Estepona, Andalucia, Spain
Mizzellaa loves to post her life in pictures on the Social Media channel Instagram. The glamorous-Romanian-Lebanese influencer grew up in England and balances her work, travel and love of fashion with bringing up two beautiful children. Michelle and her assistant Joaquin shot images of Mizzellaa at the five-star luxury hotel Villa Padierna Palace (now known as Anantara Villa Padierna Palace). The lifestyle / fashion images included fashion and accessories from brands such as Chanel, Versace and Christan Louboutin, although Mizzellaa has a great eye for putting outfits together, and she also sneaks in the odd vintage piece.
As an Instagram influencer with 40,000-odd followers, and a sound appreciation of the visual impact that is central to her job, Mizzella understands better than most the vital importance of having a professional profile picture, and other professionally styled, quality images for her portfolio.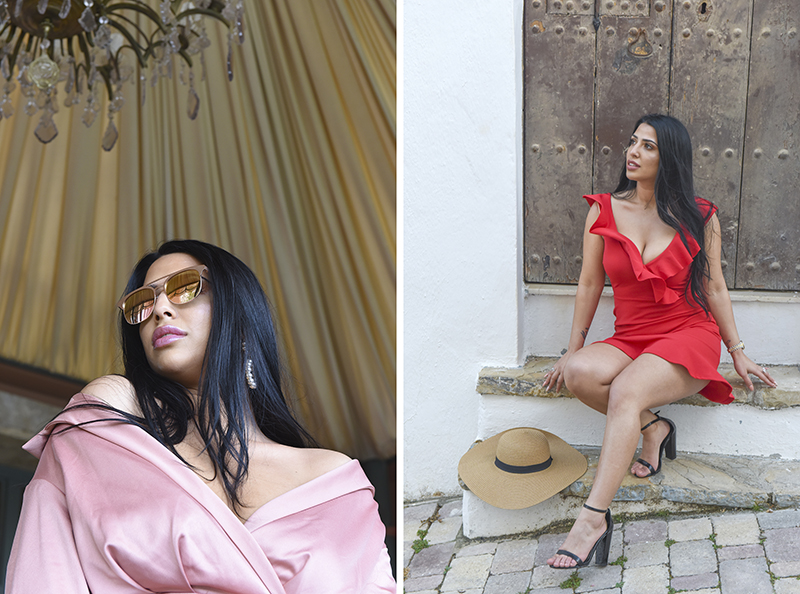 Michelle also shot images of Mizzella wearing a stunning red dress in the narrow, flower-bedecked streets of Estepona.
https://www.instagram.com/mizzellaa
---
Spring 2019 Color Awards, Los Angeles,USA
Winners of the 12th Annual International Color Awards were announced at a prestigious online Nominees & Winners Photo Show, livestreamed from Beverly Hills on Saturday 9 March 2019.
Nominated
After Coffee Games
Category: Still Life
Unusually for a minimalist image, this photograph features elaborate patterns on the coffee pots and cups, while the position of the buffalo tomato creates tension – will it stay balanced?
Dear Michelle,
CONGRATULATIONS on being a Nominee at the 12th Annual International Color Awards with:
Nominee in Still Life | After Coffee Games
7,241 entries were received from 79 countries and your work received a high percentage of votes overall. Certainly an achievement, well done!
The Jury represented the industry's biggest names and tastemakers including Sotheby's, New York; Benetton, Ponzano Veneto; The Art Channel, London; Kolle Rebbe, Hamburg; Droga5, New York; Preus Museum, Norway; Art Beatus, Hong Kong; Forsman & Bodenfors, Gothenburg; Wieden & Kennedy, Portland; Fox Broadcasting Network, Los Angeles; Gallery Kong, Seoul; and Phillips, New York who reviewed the entries online before making their nominations and honoring 761 title awards and 1,032 nominees in 37 categories. The Awards could not have wished for a better group of professionals to work with.
Congratulations once again, we wish you a most successful photography year.
Basil O'Brien
Creative Director
---
Stock Photography of Andalucia, Spain
There are about 1000 villages and hamlets in Andalucia, and one major ongoing project at Andalucia.com is to reshoot analogue images of the region, taken back in the 1990s, as digital photographs. Jimena de la Frontera is a pretty, historic village in Cadiz, last visited and captured on slide film – Fuji Velvia, to be precise. It was a lot of fun rediscovering the narrow streets on my digital camera, especially the back roads leading up to the majestic castle, a Moorish fortress built on top of Roman ruins. This is a long-term, 25-year-plus photography project.
---
Photo shoot at the St James Hotel Redwing Minessota USA
A member of Historic hotels of America, perfectly situated on the banks of the Mississippi River.
The St. James Hotel was built in 1875 nestled between one of the world´s most famous rivers and the rolling bluffs of Red Wing. Redwing is a low rise town, with antique stores, curiosity shops and the world famous Red Wing Shoe company.
The St. James Hotel′s 67 charming guestrooms feature period Victorian antique decor, Every room is unique and each individually named after one of the 19th-century riverboats that sailed along the the Mississippi.
Our photography assignments included architectural photography, environmental portraits, food Photography and those all important hotel essence details that really captured the look and feel of this most prestigious property.
"We selected Hotel Essence Photography for our hotel photoshoot based on the quality pictures on her website and social media platforms. Michelle did not disappoint us. She came with her team this past summer for two weeks. We scheduled 21 spaces and food photography in the 10 days of the shoot. She and her team worked countless hours, sometimes well into the night, to complete the assignment and did it with grace. The result is amazing. We already received comments from our guests saying they choose our hotel because of the photography on our website. I could have not expected better results. Thank you Michelle for all your hard work. Hope to plan the rest of the hotel soon."
Marilyne Bouteiller, Director of Sales and Marketing, St James Hotel, Redwing, MN, USA
---
Native American Pow Wow: a festival of colour at Prairie Island, Redwing, MN, USA
Photography is all about spontaneity and colour; so to happen across a Pow Wow was a dream. Pow Wows are social meetings held by many indigenous communities, but are particularly known as a Native American event consisting of dancing, singing, socialising and honouring their culture. Walking into the festival, you could feel the pride, respect for the tribe's elders and dignity of the young people who will adopt this culture and carry it into future generations. The traditional Regalia, feathers, make up and sheer passion and pride were mesmerising to watch.

Michelle spoke to a member of the press and was invited into the elevated press stadium. Listening to the beating of drums and watching the visual spectacle of so many Native Americans from all over the USA and Canada dancing around one huge pole was truly unforgettable. Michelle felt this was a privilege to witness first hand and commented, "The great thing about festival photography is that not only are you visually immersed, the behind the scenes views are also moments to cherish in themselves".
---
14th Black & White Spider Awards
Hi Michelle,
CONGRATULATIONS on being a Winner at the 14th Annual Black & White Spider Awards with:
Honorable Mention in Advertising | These Boots
Nominee in Nature | Stormy Weather
Nominee in Portrait | Eliza
Nominee in Still Life | Alma x 2
6,418 entries were received from 73 countries and your work received a high percentage of votes overall. Certainly an achievement, well done!
---
A second photoshoot for Fairmont Hotels & Resorts
Following her previous photoshoot at the Fairmont Barcelona Hotel, Michelle was commissioned for a second photoshoot where she and the team focused on gastronomy, particularly the Fairmont Sunday brunch and the breakfast buffet.
They also worked to accurately document the hotel's categorised views of the city, sea and Camp Nou stadium, one of the most famous in the world.
Fairmont is part of the Accor group, which has very exacting corporate guidelines for photography. With 76 properties worldwide, it is very important for all Fairmont-approved photographers to work to the same brand guidelines, which stipulate everything from composition and lighting all the way through to post production colour management, format and delivery. Michelle's autumn and earlier spring photoshoots at the hotel were both approved by Fairmont and have been incorporated into their portfolio of images for Fairmont Barcelona.
---
Fairmont photography at Brand level
Michelle and her team were delighted that this photography of a female chef was used by Fairmont for #worldchefday.

---