November 30, 2014
In
News
November 2014 Michelle Chaplow delivers keynote speech at The Preferred Hotel Group Global Conference, In Pebble Beach, California, USA
Michelle Chaplow delivered her speech to an audience of 350 hotel owners and managers at the PHG Global Conference which took place in Pebble Beach, California, on 3-7 November. Other keynote speakers included Arianna Huffington of the Huffington Post and Terry Jones, founder and former CEO of Travelocity.com, Chairman of Kayak.com, and CIO of Sabre.
Keynote title "Photography essentials for the digital marketplace".
The speech was divided into three parts:
1. Why upgrading your hotel photography every two years is essential in the digital marketplace
2. Why consumers are more likely to book your hotel based on photos
3. Top Tips for luxury hotels – how to prepare your next photo shoot
November 2014 Photo shoot for the Napa River Inn, California, USA
The Napa River Inn is a member of Historic Hotels of America. Michelle is an approved photographer for this organization, which was founded in 1989 by the National Trust for Historic Preservation to identify quality hotels in the USA which have faithfully maintained their historic authenticity, sense of place, and architectural integrity.
Locally owned and operated since the beginning, Napa Valley Inn's history goes back to the Napa Mill in 1884. Captain Albert Hatt, who ran a shipping and merchant business along the riverfront, used the mill as a warehouse for stocking supplies and wines for local vineyards. In the 1990s the Napa River Inn was erected inside the Historic Napa Mill.
Today, local owner Harry Price, often credited as a key player in the revitalization of Downtown Napa, is committed to preserving the inherent charms of the Inn's history.
The photo shoot included hospitality shots of the bellboys, interiors of the rooms, the lobby, close-up Hotel Essence photography details, food shots and architectural exteriors.
November 2014 Travelling in style around Northern California on The Napa Valley Wine Train, California, USA
Michelle was absolutely thrilled with the Napa Valley Wine Train. This gourmet train journey provides a three-hour, round-trip journey from the historic town of Napa, home to the Napa River Inn, though the beautiful Napa Valley, where you can enjoy unrestricted views to the vineyards for as far as the eye can see. The track was originally built to take visitors to the hot spring resort town of Calistoga.
You can choose from dining in an elevated glass dome or in the traditional dining car, a fully restored 1915-1917 Pullman – you feel like you are onboard the Orient Express. An absolutely first-class gourmet experience with, as you can imagine, the finest wines from the Napa Valley.
Dessert and coffee are served in a separate car with cosy armchairs, back to back on each side of the carriage, looking right out to some of the most breathtaking views.
For anyone interested in travelling through one of the world's best-known wine valleys, on the 36-mile round trip from Napa to Yountville, Oakville, Rutherford, and the quaint village of St. Helena and back again, this is one experience not to be missed. So many photo opportunities onboard.
November 2014 Michelle Chaplow receives five nominations in three categories at the Black and White Spider Awards, the international awards honouring black and white photography
CONGRATULATIONS to Michelle Chaplow on being a Nominee at the 9th Annual Black & White Spider Awards with:
8,508 entries were received from 73 countries and your work received a high percentage of votes overall. Certainly an achievement, well done!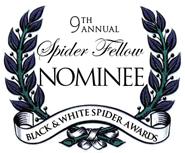 The Jury represented the industry's biggest names and tastemakers, including The Royal Photographic Society; FoMu Fotomuseum; Fratelli Alinari in Florence, the world's oldest photography company; Stockholm City Museum; and Torch Gallery in Amsterdam and others. They reviewed the entries online before making their nominations and honouring 298 title awards and 957 nominees in 14 categories.
Stock photography in two small coastal Central California towns: Carmel-by-the-Sea and Monterey, California, USA
A special mention goes to these two photogenic seaside towns in Central California. Carmel-by-the-Sea is one of the quaintest towns you can find; Clint Eastwood was its mayor briefly, and you can see a photo of him on every corner.
Michelle shot an image of a girl dining alone in a restaurant here. With photography, sometimes you can take hours setting up a shot, and sometimes the images just appear before you, as was the case in this instance. Michelle has titled the work, the Anonymous Diner.
In Monterey Michelle met Philip at Gino´s Barber, a shop with three generations of musical barbers. With time to listen and photograph, out of the blue Philip put down his barbershop scissors and picked up his electric guitar, closed his eyes and played what he called barbeque cords – a spontaneous private concert. The décor was authentic Americana and this was one of those American travel moments that you will savour forever.
November 2014 Blog post about eye-tracking as opposed to click-stream data when choosing a hotel
As a professional Hotel Photographer and a keynote speaker on Hotel Photography, Michelle is continually on the lookout for academic studies that demonstrate how quality photos on a hotel or travel website lead to increased reservations. Michelle´s blog post highlighted a recent study by Cornell University in New York which indicates that photos on a hotel or travel website, capture attention. Read more here: