April 2014 E&O Hotel Penang, Malaysia
The E&O Penang was founded by the Sarkies brothers, who also founded Raffles Singapore and The Strand in Rangoon, Burma. With the unmistakeable ambience of the Belle Epoque, the hotel dates back to 1885 and has a newly-completed wing, attached to the original building.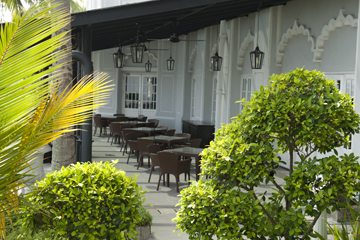 The hotel's General Manager, Mike Saxon, is a lover of history who has worked all over the world, and has even written a book about his experiences. Mike delighted in telling Michelle ghost stories about a young lady with blonde hair who wanders around the hotel at night. Luckily, this story relates to the old part of the hotel -Michelle was safely lodged in the new wing. So far there have been no sightings of the mysterious blonde girl moseying through the corridors in this area!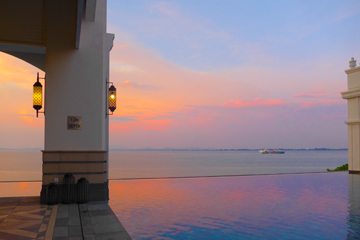 The stunning infinity pool looks right out over the Straits of Malacca, and this stretch of seafront once earned the hotel a reputation for the longest of any hotel in the world, at 902 feet (300 metres). Georgetown, where hotel is located, was a strategic trading post for the Far East and therefore has a rich colonial history. In the days of its foundation, the E&O (then the Eastern hotel) was referred to as "The Premier Hotel East of Suez" and its luxury facilities (hot and cold running water being one of them) brought the likes of Rudyard Kipling and other literary luminaries to the island. Today, along with heaps of historical charm, the hotel still boasts all the trimmings of a luxury hotel, including a limousine transfer from the airport. The E&O is one of those hotels that you really don't want to leave.
Read more about Michelle's first time in Malaysia and her stay at the E&O here.
April 2014 On location in Penang, Malaysia
Michelle travelled to Malaysia with Silk Air, Singapore's very impressive low-cost airline. It was her first time in Malaysia and Michelle likes nothing more than visiting a new country for the first time. The Dalai Lama says, "Once a year, go someplace you've never been before" and Michelle tends to stick to that. She believes that you can never repeat the experience of seeing a new country for the very first time.
Michelle's first impression was that Malaysia is very different to Singapore, much less developed and in many ways quite similar to Thailand and Vietnam. Long gone was the international, cosmopolitan feeling of Singapore; arriving in Malaysia felt much more like South-East Asia. Michelle visited the new Camera Museum in George Town, Penang, which has a darkroom and fantastic collection of cameras – everything from box brownies, to large-format cameras, to the earliest digital devices.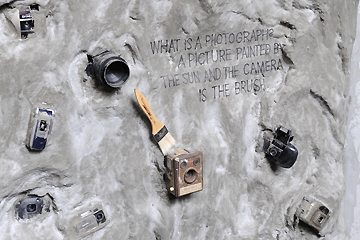 It was here that Michelle first encountered the 'selfie stick' (for attaching a smart phone, to take pictures of yourself), when she met a girl who had bought one in Kuala Lumpur, Malaysia's modern capital city; Michelle thought it was a pretty ingenious invention.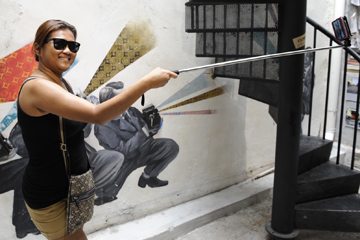 April 2014 Stock photography including Chew Jetty, Penang, Malaysia
A great way to see George Town is on a rickshaw tour. While Michelle was exploring the town collecting stock imagery, she even came across a Bollywood film crew making the most of the picturesque locations.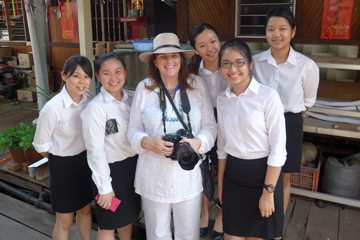 April 2014 17th Birthday of Andalucia.com, Estepona, Andalucia, Spain
Chris Chaplow co-founded the tourist information website Andalucia.com with Michelle Chaplow in 1996. The site is an independent guide to Andalucía, providing advice for everyone who visits the region, whether it's for a weekend break or a life-changing move. The site has been labour of love, with a total of more than 10,000 pages, and is now the most visited-website in English about Spain. The site's Alexa ranking is 48, 835.
Andalucia.com loves to share passion for the region with its readers, and this year the company celebrated its 18th anniversary doing just that. The birthday fell on Maundy Thursday (Jueves Santo),themost emblematic day of Easter week in Spain.
April 2014 Semana Santa, Malaga, Andalucia, Spain
One of the great advantages of having friends who love photography is that they often live in apartments with wonderful views, and this is the case with Ana Cubo who lives in Malaga old town. On Lunes Santo (Monday of Easter Week) processions pass right by her door, giving Michelle and her friends a bird's eye view. Michelle shot stock photography of the processions below in the street, which featurelines of hooded nazarenos, and life-sized statues of Jesus and Mary carried on flower-covered floats.
April 2014 Finca Cortesin Beach Club Opening, Andalucia, Spain
April marks the beginning of the summer season for beach establishments in Andalucia and Michelle was invited to the opening of the Finca Cortesin Beach Club for 2014. The luxury hotel's wonderful head chef Lutz Bosing prepared a mouth-watering selection of fresh seafood tapas which were enjoyed with champagne and summer cocktails. Michelle took the opportunity to photograph the beach club's idyllic pool which is lined with tall, elegant palm trees. Read more about the delicious food served at the event and see photos here.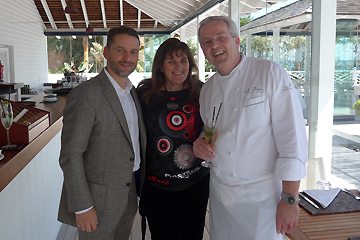 April 2014 Visit to birthplace, Durham UK
As Paolo Coehlo says, it's a privilege to see a destination through foreign eyes, and after 22 years of living in Spain Michelle now sees her hometown of Durham in this way. Not only was she delighted to catch up with friends from Durham Johnston Grammarat her school reunion, she also spent many happy hours shooting stock photography of bluebells, dandelions and landscapes. Looks like the bluebells and the dandelions are the new geraniums that Michelle was mesmerized by when she first arrived in Spain. A photographer´s vision.
April 2014 Pool of Life, Estepona, Spain
One of the things that really fascinates Michelle is the way landscapes change with human intervention. In the Torcal de Utrera gorge, within a 30-minute hike from the Manilva to Casares road, amongst all the natural prehistoric stones, there is a man-made well which is now totally overgrown and has formed a natural pool. The area is immense and the model Helenka Leksinska posed for pictures following the style of the Pool of Life project. The scene had a melancholic air on a cloudy day, reminiscent of northern European climates.
April 2014 Quality 36, Estepona, Spain
Living in a coastal town, it's always a treat to see the world from the sea. Michelle sailed with the Quality 36 brothers and a group of journalists from Estepona to Sotogrande. The group experienced ideal conditions with a poniente (westerly) wind, perfect for sailing. Michelle dined on board and would recommend such an excursion to anyone who comes to the region.
April 2014 Mention in El Mundo newspaper, Spain
In her weekly column, Martini del Mar, Malaga journalist Berta Gonzalez de Vega talked about Michelle's photos of Finca Cortesin. Read the article here.
April 2014 Renovation of the streets in Estepona, Andalucia, Spain
Michelle loves wandering around her adopted home town on the Costa del Sol and photographing the buildings, a delightful mix of old and new, as well as the sea views. Recently the town hall has invested in the renovation of many streets and squares in Estepona, which makes them all the more photogenic. In April Michelle collected several stock images of the cascading Mediterranean plants and colourful flowers that have transformed Estepona.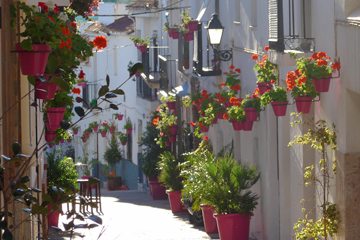 April 2014 NH Collection Open, Sotogrande, Andalucia, Spain
On behalf of Andalucia.com Michelle attended the NH Collection Open Golf Tournament at La Reserva de Sotograndethis event as press. María AcaciaLópez-Bachillerhas dedicated more than 30 years to organising golf press events, and she took a photo of all the press representatives in attendance, which will be a lovely souvenir for Michelle for years to come. The winner of the tournament was Marco Crespi from Italy.
April 2014 HDR High Dynamic Range in Casares, Andalucia, Spain
Continuously striving to improve her photographic technique, Michelle chose one of the most beautiful villages in the whole of Andalucía and Spain to set up an HDR photograph of this emblematic white village. She used the Christian cross in the foreground, with fill-in studio flash to accentuate the cross, giving it a silhouette effect, contrasted with the remains of the Moorish castle directly behind, and a glowing golden horizon in the distance.