April 2012 Photographic Workshop during Easter Week, Semana Santa in Andalucia, Spain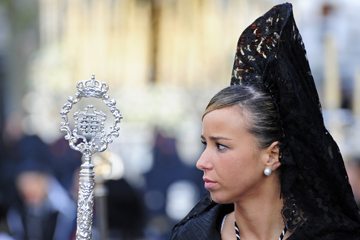 Students flew in from the UK for a photographic workshop by Michelle Chaplow. The lush, green springtime landscapes of southern Spain, and the quality of light in April and May, are unbeatable. In addition, it was Semana Santa – Holy Week – an important event in Spain, and a highlight in the Spanish photographic calendar. This week of extraordinary processions offers unlimited opportunities to capture the very essence of Spanish religious passion, as the pasos carrying statues of the Virgin Mary and Jesus Christ process by day and night around towns and cities all over Andalucia and beyond.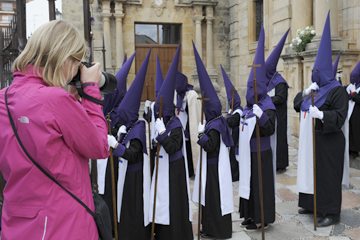 This five-day course offered both photography enthusiasts and professionals an escorted photo workshop in Andalucía, staying in comfortable hotels and travelling in an All Terrain Vehicles (4×4).The group attended and followed Semana Santa processions both in Malaga city and the historic town of Ronda. During the workshop the group covered traditional photography angles and aesthetics, travel-oriented views and landscapes, and abstract imagery with a contemporary focus. A professional flamenco dancer offered the students the opportunity to capture action shots of dance in Michelle's studio. For the grand finale of the course Michelle and the students travelled to Antequera to photograph the historic restoration of the town.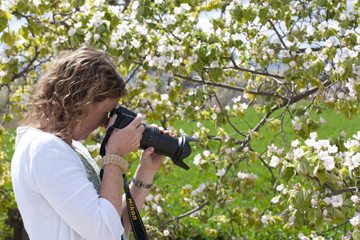 Testimonials from Students
"Michelle's ongoing photographic passion was 24/7. It could not be a more contrasting experience to the mañana stereotype around Spain. We came back from our week for a well-earned rest. I feel inspired and proud to have produced the work that I did, thanks to Michelle's guidance and encouragement."
Julie Benz, Business owner, UK
"I have just finished what has been a truly fantastic week with Michelle at a time of year when Andalucia is at its best. Not only have we photographed Spanish culture at its most passionate, we have also eaten some delicious Spanish cuisine and stayed in some delightful traditional Andalucian towns over the week. Every day brought a different experience. Michelle introduced us to so many elements of photography, from street to studio, from white villages to olive groves, portraits to landscapes, from food composition to contemporary. There is no better way to learn something than by being thrown in at the deep end and, from the word go, we were right in amongst the Semana Santa processions in Malaga. Michelle is relaxed and encouraging in her approach, and totally fascinating to listen to and to watch when she is at work. It never failed to amaze me how she would get us into the best positions at any given time, regardless of the crowds of locals, or how out of our comfort zones we were. I have always enjoyed photography, but after a week with Michelle and her endless smiling enthusiasm for her work in this field, I am hooked. I am looking forward to the next course.
Lindsay Bailey, Personal Assistant, UK
April 2012 Blog post on Artfacts.net, the world ranking for artists
Michelle produced a blog post relating to the current ranking of American photographer Irving Penn, the very photographer who inspired Michelle to commence her career in photography.
"This artist has fascinated me ever since I visited the Museum of Modern Art in New York in 1998 and stood mesmerized by the still-life photograph After Dinner Games (which shows brandy, coffee, playing cards, dice and poker chips), shot by Penn in New York, 1947. I bought the poster from the exhibition, which over the years faded from the Spanish sun – so much so that in 2009, when Irving passed away, so did his poster."
Penn was one of the first photographers to shoot portraits on a white or grey background, creating portraits with minimal, simplistic elegance. He used this technique to photograph many, including Pablo Picasso, Marcel Duchamp, Marlene Dietrich and WH Auden
"A good photograph is one that communicates a fact, touches the heart and leaves the viewer a changed person for having seen it. It is, in a word, effective." Irving Penn
My photography career commenced in 1992; I first picked up a manual SLR camera in 1989, one year after standing in front of Penn´s work. His work certainly "touched my heart and left me, the viewer, a changed person for having seen it". Michelle Chaplow.
April 2012 Palm Sunday in Alfarnate, Andalucia, Spain
On Palm Sunday, on a reconnaissance trip just before the photo workshop, Michelle stumbled across a procession in the quaint village of Alfarnate (famous for its cherry festival), where the whole town walks from one church to another as the priest blesses olive branches with Holy water. That's the thing about Andalucia – there's a surprise waiting for you and your camera around every corner.
April 2012 Photo shoots for final project for the Contemporary Art Museum in Malaga/Valentin de Margariaga foundation course, Andalucia, Spain
Michelle conducted two more photo shoots for contemporary art project "The Pool", concentrating on the concept of female inner reflection. The first shoot location was an abandoned water park, the second a rustic empty pool in the middle of a lemon grove.
April 2012 Office Life Photos, inspired by Dutch photographer
Florian Van Roekel produced a very famous series titled "How Terry Likes his Coffee", depicting office life from a contemporary angle.
It is a series of abstract images shot in two minimalist modern offices, showing how it is impossible to lose one's identity and personality completely within an office setting – even when the office is totally anonymous, the personality and sensual idiosyncrasies are still evident. The final images aim to draw attention to the hints of individuality within any office or working environment. Michelle selected the music "Take a walk on the wild side" by Lou Reed to demonstrate irony; it is difficult to walk on the wild side in the office environment, but people still have moments of madness or unique qualities that slip through.
April 2012 Press photos for the Costa Press Club
As a member of the Costa Press Club, Michelle attended their April event: an introduction to Andalucia Lab in Marbella, learning about the latest technology for the tourist industry. Michelle photographed the event on behalf of the Press Club and photos were printed in the Sur in English newspaper.
April 2012 Reportage of Huelva published in the French magazine Café Crème
Images included the El Rocio pilgrimage, the rich red tones of the Rio Tinto and the famous pigs of Jabugo which are considered to provide the finest jamón bérico or pata negra in Spain. You can see the full article here.