October 2011 Photography commission from Hotel La Val, Brigels, Switzerland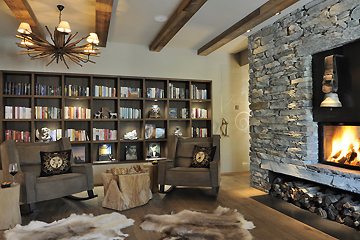 In October Michelle was commissioned to do a photo shoot for Hotel La Val in Brigels, Switzerland. She flew out to Brigels with her crew, on this occasion including Joaquin Alarcon, Cheryl Gatward and Italian Swiss-based stylist Daniela. She worked together with Ogilvy and Mather design agency on an extensive photographic brief which covered shots of the hotel's interiors, spa shots, room sets, restaurant, lobby, exteriors and food photography from the excellent award-winning and highly-acclaimed chef Rodolfo.
It was a genuine Alpine experience; Michelle really knew she was in Switzerland when she saw cows on the front page of the newspaper – twice! She was also lucky enough to see, and capture on camera, landscapes depicting the very first snowfall of the year. You can see the photos from the shoot here.
October 2011 EmTech Spain Conference in Malaga, Andalucia, Spain
Michelle attended this conference, which looks at emerging technology and is run by the respected MIT (Massachussetts Institute of Technology), as a representative of Andalucía Web Solutions – sister company of Andalucia.com – along with Noemi Roman. The conference was held at the Palacio de Congresos in Malaga, and Michelle attended by invitation of the business organisation Club Malaga Valley.
October 2011 Interview for German newspaper
Michelle was interviewed by a German newspaper about her knowledge of photography, and life as a photographer based in Southern Spain.
October 2011 Visit to the Gibraltar Cemetery for Andalucia.com
In her capacity as chief photographer for Andalucia.com, Michelle travels all over the region photographing events and places. In September, she nipped across the border to Gibraltar Cemetery, to locate and photograph the graves of the victims of the Lakonia cruise ship tragedy, which took place on 23 December 1963. Andalucia.com´s information on the Lakonia has been recognized as some of the most extensive in existence, with survivors' families constantly adding to the valuable forum thread on this terrible incident in which over 100 people died. Visiting the cemetery was a very moving and humbling experience for Michelle; she was glad to be able to document this important location through her photography, and she hopes that the images may, in some way, help the victims' families to visualize the final resting place of their loved ones.