August 2011 New beach club at Finca Cortesin, Casares, Andalucia, Spain
Michelle was commissioned to shoot the stylish new beach club at Finca Cortesin, right on the Mediterranean. The club has a huge pool, cosy chairs, fantastic food, beachside cocktails and an air of the Hamptons, with its white-painted wooden beach bar restaurant and smooth decking. It all makes for another perfect barefoot day around the beachfront pool of Finca Cortesin. The towering palms were perfectly reflected in the pool as if in a mirror, and this particular image was selected for full page ads in the publicity campaign of Finca Cortesin. You can see Michelle´s photos of the hotel itself here.
August 2011 Holiday Villas Conil de la Frontera & El Palmar, Andalucia, Spain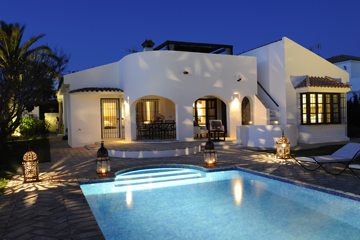 As a photographer, the most important element of a photograph is light; the very meaning of the word photography comes from the Greek words photos and graphe, "the drawing of light". Therefore it goes without saying that the Costa de la Luz is one of the best areas for photography in Spain; its very meaning – "the coast of the light" – shows that it offers the key element to any great photograph.
This shoot involved photographing a rental villa and a beachside holiday home on the Costa del Sol. Michelle´s team for this shoot included Cheryl Gatward as Art Director, Joaquin Alarcon as assistant photographer, and Stylist Pam Elson, who carried out the villa and food styling.
The photographs were to be used in the villa's advertising and two slideshows which can be viewed here. The slideshow for Villa Mar The slideshow for Villa Parra.
Michelle also took a series of environmental shots to geo-identify the location of the villas. This commsion also involved taking lifestyle shots of various activities such as beach life, surfing, walking and gastronomy around El Palmar and Conil on the wonderfully unspoilt Costa de la Luz, which is what its name says: The Coast of the Light.
The completed website designed by Andalucia Web Solutions can be viewed here.